Advantage of induction tools in the workshop
|
18 July, 2019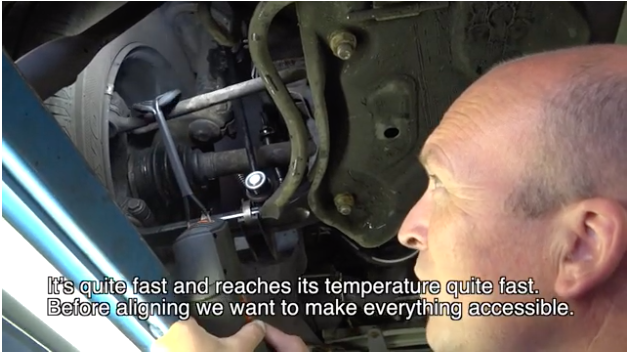 The iDuctor is an induction tool that you can use in many different workshops. By means of electronic induction heating you can easily disassemble all corroded, glued or clamped iron-containing parts.
With the iDuctor you only heat the outer structural parts, so you don't damage the surrounding parts. Because of the temperature difference, you can easily remove the construction parts. This way you can disasssemble the part within tens of seconds.
Professionals who don't know the iDuctor yet often use gas burners for this, but this has many drawbacks. For example, the use of open flames in workshops is dangerous. You need supervision from a colleague for safety and it is not possible to heat a specific part precisely. This means that you can also heat parts that you do not want to heat, which can cause damage.
The iDuctor is already used by many professionals. Below they explain why the iDuctor is the best induction tool, and how they use it.
Frank van der Loo, HR Garage in the Zilk
"The iDuctor works very fast, because everything quickly reaches the right temperature. When you work with the iDuctor, bolt are loosened very quickly. Usually, it is very tight and then it takes a long time before I get it loose to adjust it. I use the iDuctor for quite a lot: loosening bolts and manifolds that are stuck, to warm up the wheel bearings, actually everything that has been stuck for a long time and is therefore stuck."
"It's also much safer, when using a gas burner you have to watch out for things like the tyres and brake hoses. When they heat up, they can easily be damaged. This damage is often not visible to the naked eye, but can lead to life-threatening situations, such as leakage of the brake and/or fuel lines. However, with the iDuctor you can heat up parts very precisely"
Sjaak van Haasteren, truck service company MAN Hoofddorp:
"The iDuctor is very easy to use. Moreover, it doesn't get hot on your hands, so it works perfectly. It works easier than a flame cutter, which can cause a lot of damage if you are working in hard-to-reach places. We have had the iDuctor for more than two years now and I use it daily."
Verschoor Crane Company in Sassenheim:
"We use the iDuctor daily. We want to use gas and oxygen as little as possible because of the risk of fire, and the iDuctor is the perfect alternative. It is very light to work with, super easy to handle and you can go anywhere between because it is so flexible."
"We use it to heat bolts and pins, among other things, that have to get removed. But also, for example, to loosen cylinders. In fact, it is ideal for all heavy-duty applications. If you set the iDuctor correctly, you can stop before the material becomes red-hot. This completely eliminates the risk of fire."
"Because it's flexible and light, you can work with the iDuctor in even the most hard-to-reach places. It's really a godsend for everyone here at the crane company."
More information about induction tools?
Did you get interested in the iDuctor? Check out the different kits here or contact us for personal advice. If your specific application is not listed, custom solutions are also possible.