The iDuctor: a success for Fuzz Townshend
|
10 July, 2019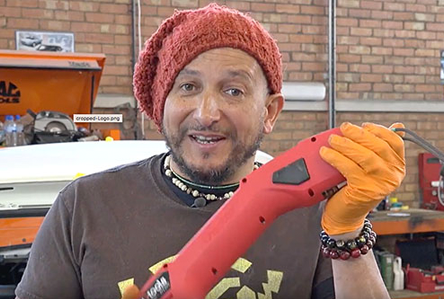 Fuzz Townshend is known from Car SOS. This is a British television program in which he and Tim Shaw help to restore classic cars. Often these cars have fallen into a serious state of decay. That is why it is important that when they dismantle the car, the surrounding parts are not further damaged. To do this successfully, Fuzz Townshend uses the iDuctor. In this article, he tells more about the success of working with this precision heater.
Working Safer, Faster and Easier
"The iDuctor replaces the heating process that we would normally heat with oxygen or gas. This means that we can work much safer, faster and easier. Using the iDuctor couldn't be easier: you take it out of the case, plug it into the wall socket and heat whatever you need to heat. It's such an easy tool to use, especially when compared to the heavy oxygen and gas tanks. It also works much safer than if you had to work with the oxygen or gas."
Precision heating with the iDuctor
"It's precision heating, so you can work in areas that are sensitive to open fire. As a matter of fact, working with open fire is always dangerous, but extra if you work with old cars. There may be oil, grease or fuel residues present, which are highly flammable. However, the iDuctor is safe to use, because it only heats locally and works without an open fire."
The iDuctor is indispensable
"We restore many old cars for the program and the iDuctor has become indispensable. This is because it helps us to secure old components of the car that would normally be damaged. These old parts are often difficult to find, or no longer available at all."
"We can use the iDuctor to easily loosen bolts, but also to simply remove coatings or stickers, without damaging the surrounding elements or paint. So it helps us to keep parts and we can work much faster."
"The iDuctor has a very wide range and the heating coils have many different applications. In addition, you also have the 'heat pad', a rail rod heater and even separate flexcoils that you can wrap around larger parts. As such, the iDuctor is a tool that everyone needs in the workshop. Whether you are restoring old cars or working with new cars, it is a very useful tool. It helps you work quickly and efficiently, and is also very safe."
iDtools
The iDuctor is ideal for use in workshops in the automotive, industrial, aerospace, nautical, petrochemical and many other sectors. The iDuctor is adjustable for specific purposes. And for special purposes, special tools are available. Are you interested in the iDuctor? Check out the different kits here or contact us for personal advice.